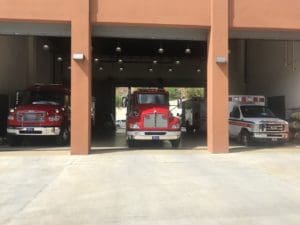 In advance of the annual review of Gov. Albert Bryan's executive budget, a member of the Legislature's Committee on Government Operations and Consumer Protection toured fire stations in the St. Thomas-St. John District. Sen. Carla Joseph said the tour was conducted to prepare herself and her staff to discuss the readiness of the U.S. Virgin Islands Fire Service, the pace of repairs to fire stations and the condition of equipment needed to meet emergencies.
A similar tour took place for fire stations on St. Croix two weeks earlier. On Feb. 24, Fire Service Director Daryl George joined Joseph and her team as they visited four facilities on St. Thomas and two on St. John. The tour began at the Omar Brown Sr. Fire Station near Barbel Plaza and ended at the Romeo Company Fire Station in Coral Bay, St. John.
Both facilities were in relatively good shape, Joseph said. Omar Brown is the most recently built, with its Fire Service Romeo Company having had some repairs completed after the 2017 hurricanes Irma and Maria with help from a St. John-based foundation. In between, however, there were stations where the slow arrival of promised federal recovery funds was apparent.
"This is just to highlight the operation of the fire service, so (Joseph) can ask questions, take pictures. She has a union representative here with her to share any concerns she has," George said.
One of the improvements Joseph sought at Omar Brown and Romeo Company is separate sleeping quarters for male and female firefighters. The fire service currently has 18 female firefighters who share coed dormitories with their male coworkers.
Joseph called the Coral Bay station, "good and operable."
"But they don't have separate quarters for male and female," she said.
Joseph's team also discussed the status of new fire trucks and other equipment scheduled for delivery, and how long it will take to complete fire station repairs at the George Scott Fire Station in Estate Tutu, the Robert O'Connor Sr. Fire Station in Cruz Bay, Dorothea Fire Station and Fortuna Station in western St. Thomas.
Recovery plans for district houses involve a range of approaches, George said. Some call for full replacement of firehouses; others are slated for rehabilitation. "We have eight projects; three are going to be rebuilt – Fortuna, Seals in Grove Place and Cotton Valley on St. Croix – and we're looking to do Cruz Bay on St. John," the Fire Service director said.
While inspecting the Cruz Bay facility, the visiting team said they were met with a disturbing surprise. The flooring in the modular dormitories brought in after O'Connor station was damaged had flooring that was falling apart.
"The interior of the modular unit has deteriorated; the floors have deteriorated. They're pulling apart; it's terrible," Joseph said. "(The Fire Service) had to invest some money to fix it, and they're trying to get the fire station rebuilt.
At Tutu Fire Station, officials told visitors they were at an impasse with the Federal Emergency Management Agency about what to do with the damaged firehouse. FEMA is offering a modular facility, but the fire service wants repairs, the senator said.
Based on talks with fire officials, Joseph says she sees their point of view. "They're appealing, and I'm agreeing with that," she said.
How quickly needed replacements and improvements take place depends on the release of disaster recovery funds. That's something the government operations committee member says is moving slowly.
One week after the tour, Joseph said a synopsis of what the team found has been condensed into a report and handed out to all lawmakers. Some of the issues that came up will likely lead to discussions before the Committee on Disaster Recovery and Infrastructure, where Joseph also serves.
The Fiscal Year 2023 budget review process is expected to begin this summer. That's when members of the Senate Committee on Finance have a chance to question agency heads like George at the fire service about their operations, challenges, and expectations.
Joseph is not a member of the Finance committee, but she said she expects to sit in on the hearings and will later have a chance to participate during the budget mark-up when all members of the Legislature are involved.
"The budget season is coming up, and this is our role as budget leaders," the senator said.