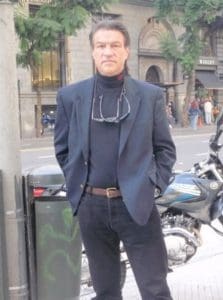 It is with deep regret that we inform you that on March 3, 2021, we lost our beloved husband and father at his home in Atlanta, Ga.
Matthew Michael Agurkis was born in Islip, N.Y., on April 21, 1960, to Joseph Robert Agurkis and Frances Rizzola Agurkis. He had two brothers: Joseph Agurkis Jr. and Andrew Anthony Agurkis.
He attended Louisiana State University, where he studied business and played on the football team. In 1985, he moved to St. Thomas on a one-way ticket to work construction with mentors Tom Queally and Bill Demetree, eventually starting his own company, Matthew Concrete and Construction Inc. He also met and married his wife of 22 years, Michele Shulterbrandt. Together they raised three children: daughter, Elizabeth and sons, Zachary and Ian.
A successful contractor, his business grew steadily, and Matthew Concrete Inc. became known for high quality commercial concrete work on-island. But Matthew also had a passion for sports cars; he started with a Corvette and eventually owned his own race cars as a founding member of the private race track Atlanta Motorsports Park in Dawsonville, Ga. He also was an avid biker, regularly riding with friends and bicycle groups in St. Thomas and Atlanta.
Matthew was preceded in death by his parents and older brother.
He is survived by his wife, Michele; children: Elizabeth, Zachary and Ian Agurkis Shulterbrandt; brother, Andrew Agurkis; sister-in-law, Paula Raley Agurkis; aunt, Dolores Murdock and husband William Murdock; and nieces: Katherine Anne Agurkis and Angela Lee Agurkis.
He will be remembered by many friends: Clive, Lise and Zoe Banfield, William Arnold, Harry Rosenblum Jr., Craig Kirchoff, Katina Coulianos Sell, Ed and Judy Pierce and many others in St. Thomas, the States and Denmark. And he will be missed by longtime Matthew Concrete employees: Joseph Williams, Simon Elliot, Andrea Daley, Michelle Vanterpool and others throughout the Caribbean.
His vision for retirement was to travel again to Italy, New Orleans, Buenos Aires, San Francisco and Las Vegas to return to his favorite hotels, restaurants, to enjoy life and, above all, race cars.
Rest in Peace, Matthew.