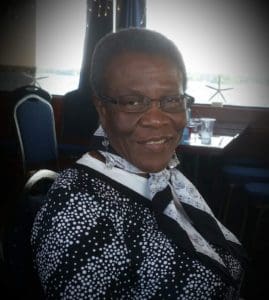 The family of Maude T. Jacobs, Ph.D., announces her passing on Oct. 29. Dr. Jacobs died peacefully at her residence in Greenville, S.C., after her bouts with Alzheimer's and liver cancer. She was 80 years old.
She was born in Cane Garden Bay, Tortola, on Oct. 13, 1941, to the late Hilda and Buntin Henley. She moved to St. Thomas in the early 1960s where she raised her children and was an active member of the community for over 30 years.
A retired educator, guidance counselor and published author, Dr. Jacobs was a member of Calvary Baptist Church on St. Thomas. She was an elementary school educator for more than 15 years, positively impacting students at Jane E. Tuitt Elementary School and Dober Elementary School, and served as the guidance counselor at the Edith Williams Alternative Academy in Tutu.
She was also a crisis counselor in 1989 following Hurricane Hugo and had a private marriage and family practice for several years following her retirement from the Virgin Islands Department of Education. She also served as president of the St. Thomas/St. John Chapter of the American Counseling Association in the early to mid-2000s.
Dr. Maude Jacobs dedicated her life to God and service to others and spent her retirement years in Tortola before relocating to South Carolina two years ago.
She is survived by her daughter, Kady Jacobs; grandchildren: Dylando Miller, Cheryl Halliday and Edrina Jacobs; four great-grandchildren; her brothers: Aldean Henley and Odain Henley; sisters: Gwendolyn Donovan, Aldora White, Maloria Hodge and Valincia Chapman; brothers-in-law: Vandell Donovan, Thomas White and Berris Hodge; and sisters-in-law: Cynthia Henley, Rose Henley and Ritsia Henley.
She was preceded in death by her son, Edward Craig Jacobs; brother, Idean "Columbus" Henley; and sister, Lillian Rhymer.
In lieu of flowers, the Maude T. Jacobs Scholarship has been established to assist those who face challenges making payments for services at the Resolution and Enrichment Center (R.E.C.) in Greenville, S.C., which was dedicated by her daughter in Dr. Jacobs' honor August 2021.
The R.E.C. provides support and solutions that help heal societal ills through education and application by offering classes like anger management and parenting.
Donations can be sent to Anger Management of the Upstate, 300 New Neely Ferry Road, Mauldin, SC 29662 or via CashApp: $AngerMoftheUpstate.
A private memorial will be held in Greenville, South Carolina.