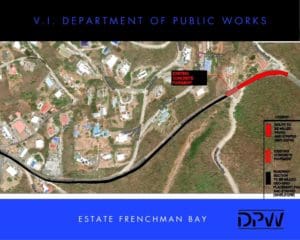 Residents in the St. Thomas/St. John District will see an increase in local road repairs in the coming months, due to funds appropriated in Act 8454. The first project, scheduled to commence on Saturday, Nov. 13, will start on Route 37 at the intersection of Valdemar Sr. Drive and Magens Bay Road, then end on Joseph Sibilly Drive near Our Lady of Perpetual Help Catholic Church.
The scope of work for this project entails clearing and grubbing, roadway restoration, parking lot pavement restoration, and pavement markings. The contractor, Grace Civil LLC, will begin implementing traffic control (installing temporary signage and temporary traffic control devices, and mobilizing barricades) on Friday, Nov. 12. Work on this project will be completed prior to May 2022.
Then, starting Monday, Nov. 15, work will continue in Estate Frenchman's Bay, then Hospital Ground, and Prindsens Gade (Goat Street). These three road projects are expected to be completed by the end of December 2021.
On May 4, the 34th Legislature passed a bill appropriating about $20 million for milling, paving, striping and drainage improvements to over 30 locations throughout the territory. The bill, which became Act No. 8454, was signed by Gov. Albert Bryan Jr. on May 19.
Motorists should expect one lane and full lane closures throughout project construction, so alternate routes should be highly considered. The department is urging motorists to adhere to all safety controls and directives from on-site flaggers throughout this reconstruction period.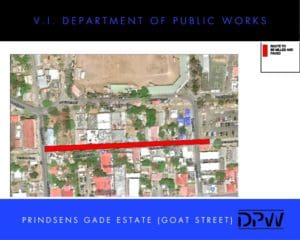 Follow DPW on Facebook, Instagram, YouTube and Twitter. People can also log on to www.dpw.vi.gov  and www.vitranvi.com to stay abreast of all things V.I. Public Works.
The Bryan-Roach Administration is committed to investing in the territory's people, infrastructure, and future through transparency, stabilizing the economy, restoring trust in the government and ensuring that recovery projects are completed as quickly as possible. Visit transparency.vi.gov.