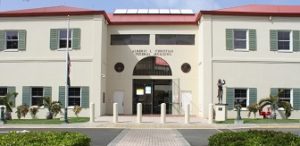 The anticipated start of a major racketeering trial has been delayed by an administrative order from District Court. Documents related to the case did not give a reason why the trial of 10 defendants that was supposed to begin in January has been put off until Feb. 7.
But a note entered into the file, in the case of USA vs. Paul Girard, et al., says all in-person District Court proceedings in the Virgin Islands are suspended for the month of January. That left two defendants appearing virtually for arraignments Tuesday and Wednesday.
Lead defendant Girard and co-defendant Wahilli James were given a chance to enter pleas to updated charges in a superseding indictment filed Nov. 22, 2021. By then, the number of those facing charges had dwindled to six: Girard, James, Shaquielle Correa, Kareem Harry, Tyler Eugene and Shermyra Gumbs.
U.S. Magistrate Ruth Miller presided over the Tuesday and Wednesday arraignments in teleconference proceedings.
The charges in the latest indictment were also trimmed down from the first indictment filed in 2018. The remaining defendants face charges of racketeering, controlled substance conspiracy and possession with intent to distribute; murder in aid of racketeering, discharge of firearms in a school zone, violent crime in aid of racketeering and the use of firearms resulting in death.
Prosecutors are also seeking forfeiture of property under the federal Racketeer Influenced and Corrupt Organizations Act as part of the latest indictment.
Fellow defendants Robert Brown, James Cruz, Etherneal Simon and Wayne Bellillie have admitted their roles in the organization prosecutors dubbed the Paul Girard Criminal Enterprise and agreed to plead guilty.
According to prosecutors and the plea agreements of those who pled guilty, the enterprise functioned as a team with the goal of making money through sales of illegal drugs, robbery, and using violence to intimidate and eliminate rivals. Three people were allegedly killed during the group's activities between 2011 and 2016. Seven more individuals – identified by their initials – were targeted in failed attempts, prosecutors said.
According to court documents, more defendants may make that choice before the trial begins. In the final weeks of 2021, the government's legal team made a series of moves signaling their readiness for trial. They produced exhibit lists, prepared trial briefs and submitted a set of proposed jury instructions.
Whether the trial actually begins in early February remains to be seen. On Wednesday Girard – also known as Bogus – filed a motion to change lawyers. If the motion is granted, the new legal counsel will have to be granted time to familiarize themselves with the case and participate in the exchange of documents and evidence with prosecutors from the U.S. Attorney's Office.
Visiting U.S. District Court Judge Timothy J. Savage has been assigned to preside over the trial when it begins in the Virgin Islands.