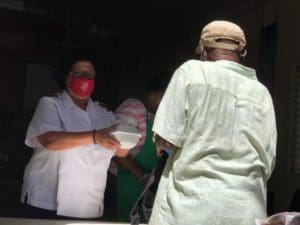 The Salvation Army's Emergency Disaster Services is here to help the people of the Virgin Islands of the United States. After hurricanes Irma and Maria of 2017, the islands were devastated, but the people remained strong.
Medical patients who were evacuated after the hurricane continued their medical treatments at different facilities/hospitals stateside. Once they arrived, The Salvation Army from different states helped many of those clients by providing vouchers for their basic needs.
With our motto "Doing The Most Good" in mind, we listened to the cries of the community and thought how best we could help locally. We were made aware that some people had insurance but it wasn't sufficient; some had insurance but were underinsured; and some did not have insurance.
Some suffered damages through wind driven rains and others lost their roofs. After the roofs were replaced and other repairs completed, no money remained to replace the items inside their homes that were affected. So, in an effort to support the people of the territory, we launched several programs. The Houses to Homes Program was our first program, which commenced in October 2018 on St. Thomas and St. John and on January 2019 on St. Croix.  We also assisted seniors in assisted living facilities and homes. This program replaced: living room set, dining room set, mattresses all sizes, bunk beds, chest of drawers, dressers w/mirror, refrigerators, stoves, washers and dryers. A total of 3,625 families have benefitted by this program territory-wide.
Our second program was the Cistern Cleaning Program. Because of this program, many clients whose cisterns were contaminated can now be assured that they have clean drinking water. The contractors cleaned, sanitized, placed two coats of sealant on cistern walls and replaced the water in the cistern. A total of 186 families have benefitted by this program territory-wide.
The Salvation Army's Emergency Disaster Services Long Term Recovery team, Terry Vanterpool, Denilia Francis and Rebekah Rich, were instrumental in conducting the required home inspections to determine a client's eligibility. Our officers offer pastoral services in addition to other necessary services. They have all done an exceptional job. The aforementioned programs ended in September 2020. We will be starting other programs very soon.
In December of 2019, we purchased 250 $50 Kmart gift cards, which were distributed to people in the community. We also distributed: kitchenware sets, dinnerware sets, flashlights, tarps, extension cords, cleaning supplies, five-gallon bucket with hurricane supplies, masks, gloves, hand sanitizers, etc.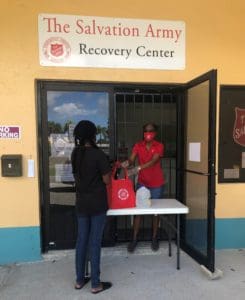 Our food bank program continues to provide nonperishable goods, even more so now in these difficult and uncertain times.  As we are all aware, many people are unemployed and others became unemployed or hours reduced because of COVID-19. In addition, to these individuals, we assisted seniors, the disabled and individuals who are economically deprived. Our non-perishable goods are also available to individuals who may be affected by impending hurricanes.
On St. Thomas, our soup kitchen continues to serve hot meals year-round to our homeless population for more than 50 years.
We want to thank Sports, Park and Recreation for allowing us the use of Winston Raymo Center on St. Thomas to conduct our afterschool program.  We also would like to thank our afterschool program staff who made a difference in the lives of the children. This program is on hold until further notice.
We have patronized many local businesses such as furniture stores, contractors, water delivery companies, department stores and supermarkets for our aforementioned programs. All our programs are funded 100 percent by The Salvation Army donors. Without these donors, these programs would not have been possible. We thank them wholeheartedly.
We are located on Main Street east of Sanderilla Thomas Bungalow on St. Thomas. On St. Croix, our new location is No. 2B Mt. Pleasant, Frederiksted.
The Salvation Army is an international movement and an evangelical part of the universal Christian church. Its message is based on the Bible. Its ministry is motivated by the love of God. Its mission is to preach the Gospel of Jesus Christ and to meet human needs in His name without discrimination.
The Salvation Army has been in the U.S. Virgin Islands since 1917.  In the United States, we have been around for more than 150 years.
Donations are always accepted so we can continue "Doing The Most Good." Donations can be made to:
P.O. Box 74
St. Thomas, VI 00804
P.O. Box 742
St. Croix, VI 00841
Remember to: Wear a Mask, Wash Your Hands, Practice Social Distancing. Be Safe. Let's protect each other.
Mary Ann Brown, project coordinator, EDS-LTR