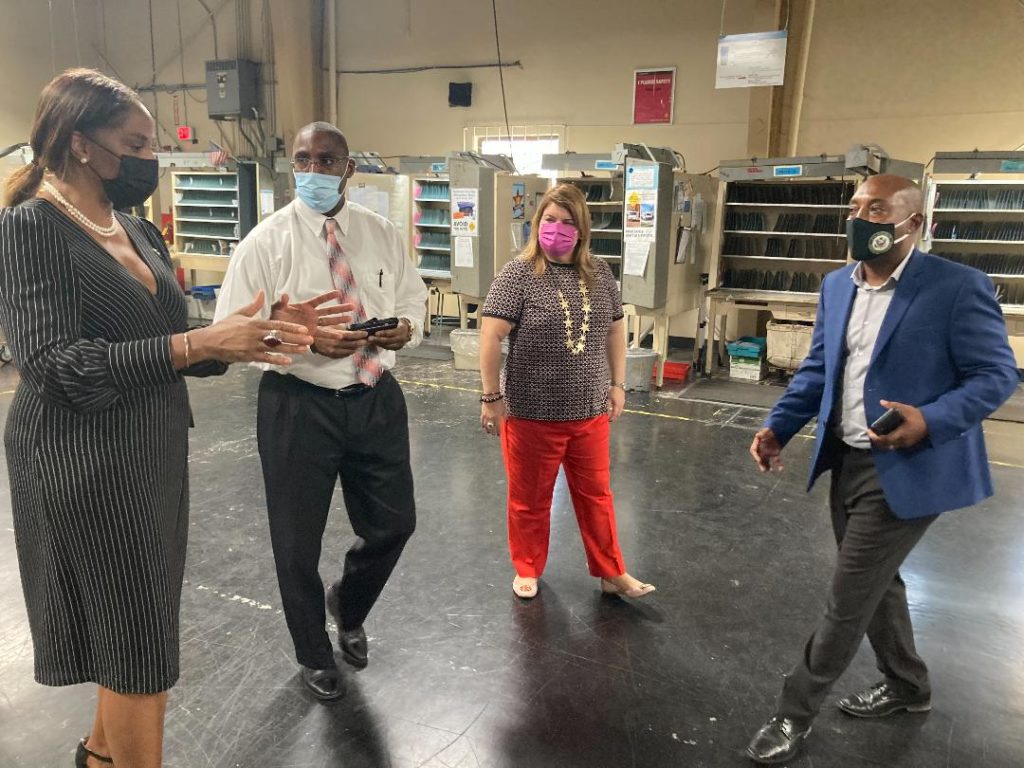 V.I. Delegate to Congress Stacey Plaskett toured the Aubrey Ottley Post Office on St. Thomas Wednesday in response to the overwhelming number of complaints received from residents about delayed mail, damaged packages, long lines, and other operational issues.
"In recent months my office has received a substantial number of complaints from constituents," said Plaskett.
Plaskett was accompanied by Puerto Rico Congresswoman Jenniffer Gonzales-Colon on a tour of the Ottley facility, including the areas where mail is dropped off, scanned, sorted, and arranged for pickup.
Mail comes to the USVI by ship or by cargo plane. Ground mail is processed once a week in Jacksonville, Florida at the national distribution center, which mostly includes packages like parcels and magazines. Mail leaving Florida enters the territory by ship. Mail that comes by air cargo is processed in Puerto Rico and consists of first-class and priority packages. Every day there are five planes that deliver mail, three in the morning and two in the afternoon.
"The mail that comes by ship is the mail that is not committed overnight or within one to two days, and then the committed mail comes in by plane," said Neftali Pluguez, the district manager for the Postal Service's Puerto Rico-Caribbean District.
Mail is sent out from the Ottley facility twice daily via plane. It first goes to Puerto Rico and then to the mainland to complete the remainder of its destination if necessary.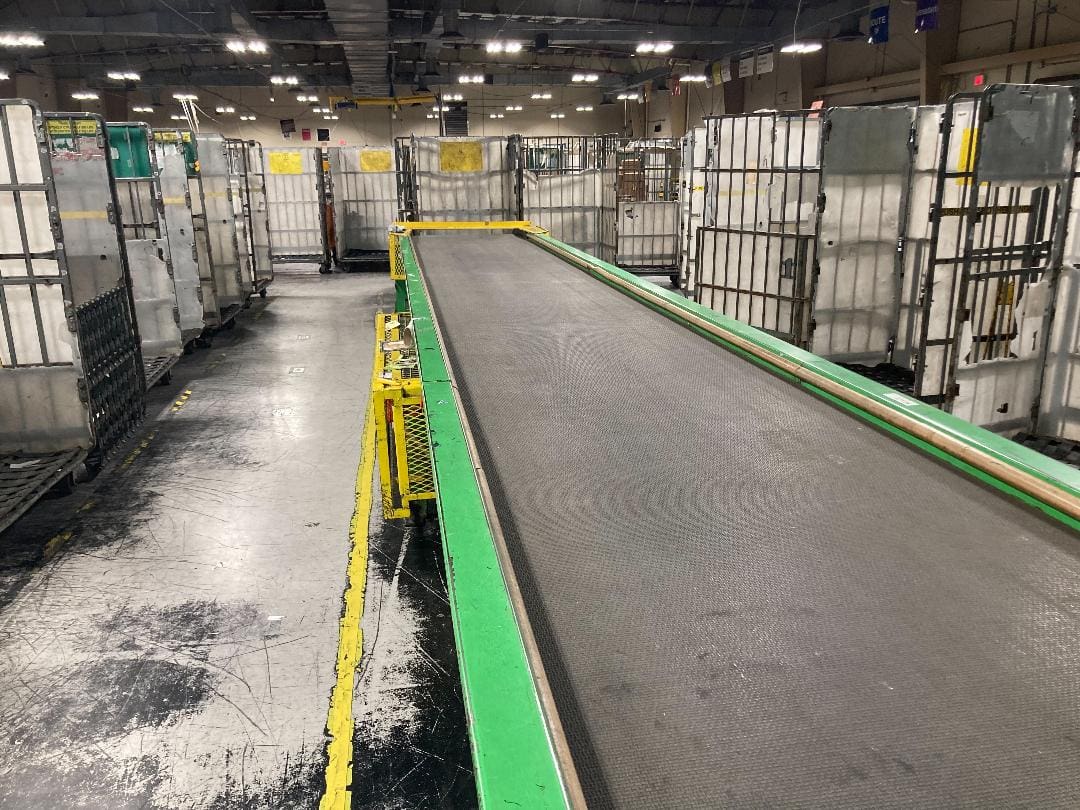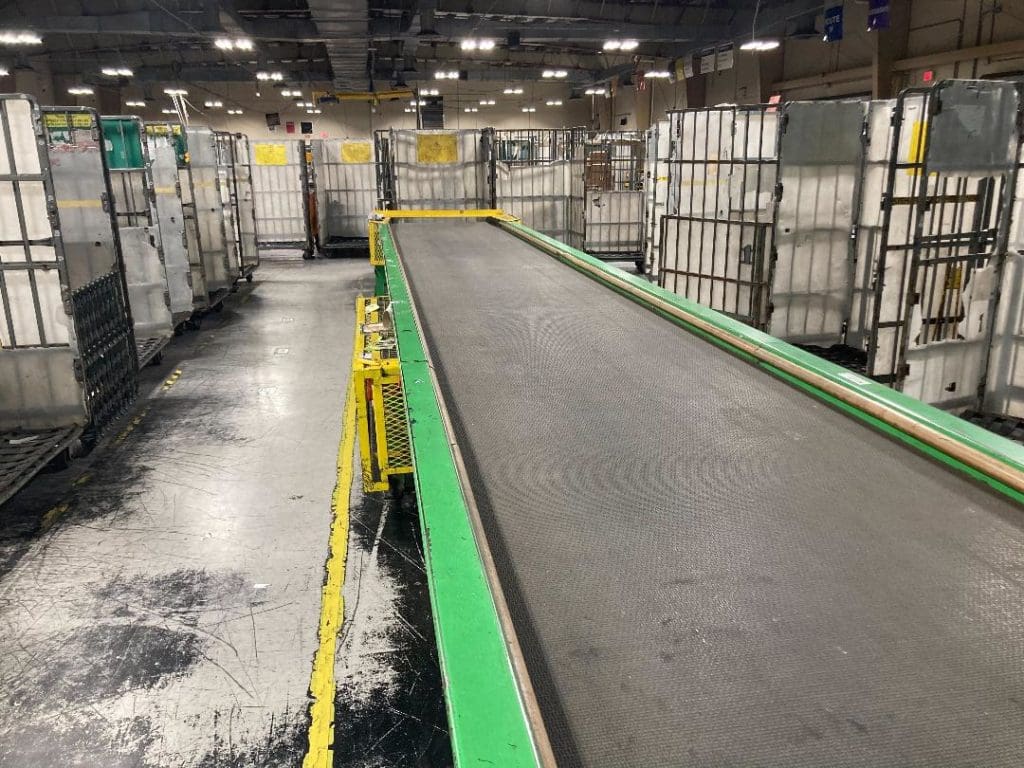 Residents have tirelessly complained about delayed mail for pickup in the Virgin Islands territory. Regarding letter mail at the Ottley facility, it sometimes arrives late and has to be sorted manually due to machine sorting issues in Puerto Rico, according to information gathered during Wednesday's tour.
"In the Caribbean district, we have the worst DPS [delivery point sequencing] percentage in the nation. … Because of our addressing issues, because of our sequencing issues, we're the worst in the nation by 15 percent," said Pluguez. "One thing that I did notice is when we had the total building shut down for San Juan a couple months back, and they were running our DPS mail in New Jersey, we were getting a higher read rate for DPS percentage," indicating that operations were running more smoothly using the mainland facilities as opposed to in Puerto Rico, he said, referring to damage from recent earthquakes.
In Puerto Rico, the mail is processed at the Carolina Sorting and Processing Center. As a result of the compromised building as well as electrical issues, mail is often delayed in reaching the USVI. Recently, sorting machines were moved to a new warehouse location due to these problems.
"The building with those machines was condemned because of the earthquakes, so they need to move that machine to this new warehouse. And it was a month ago and they just moved the machine a week and a half ago," said Gonzales-Colon.
"So the warehouse where they were working was condemned because of the earthquake. I guess they realized that there was structural damage, so they stopped them operating there and moved things to Tennessee," said Plaskett.
Gonzales-Colon and Plaskett also discussed the recent hiring of more employees for the postal service in Puerto Rico so that mail can be processed more quickly. Due to the backlog of employees, the number of packages arriving in the territory, and space shortage, mail was and is currently being stored outside in tents.
"Just imagine this post office station with tents in the parking lot. In the parking lot, there were tents, and there are still tents. So when it was raining all the mail was wet," said Gonzales-Colon.
When asked if the Postal Service could operate as it did after hurricanes Irma and Maria affected the territory and mail was delivered directly from the mainland as opposed to first stopping in Puerto Rico, Plaskett said no. The mail was delivered directly to the territory in 2017 because it came on commercial flights as opposed to cargo planes.
"The U.S. Postal Service is not a federal agency," Plaskett said. "So they make their money and they're able to do these things because of the money they make from mail. So they are looking at cost efficiencies. They cannot continue to pay the commercial flights based on the amount of mail that we have."
When asked if there is a way cargo flights can come directly to the Virgin Islands instead of Puerto Rico, Plaskett said, "That would be an additional cost."
Minor changes are being made that should assist the Ottley postal facility with operations, including a new sorting belt machine, the addition of parcel lockers, sorting and storage units, and the hiring of employees. Anticipated upgrades should be done by the beginning of December, according to information gathered during Wednesday's tour.