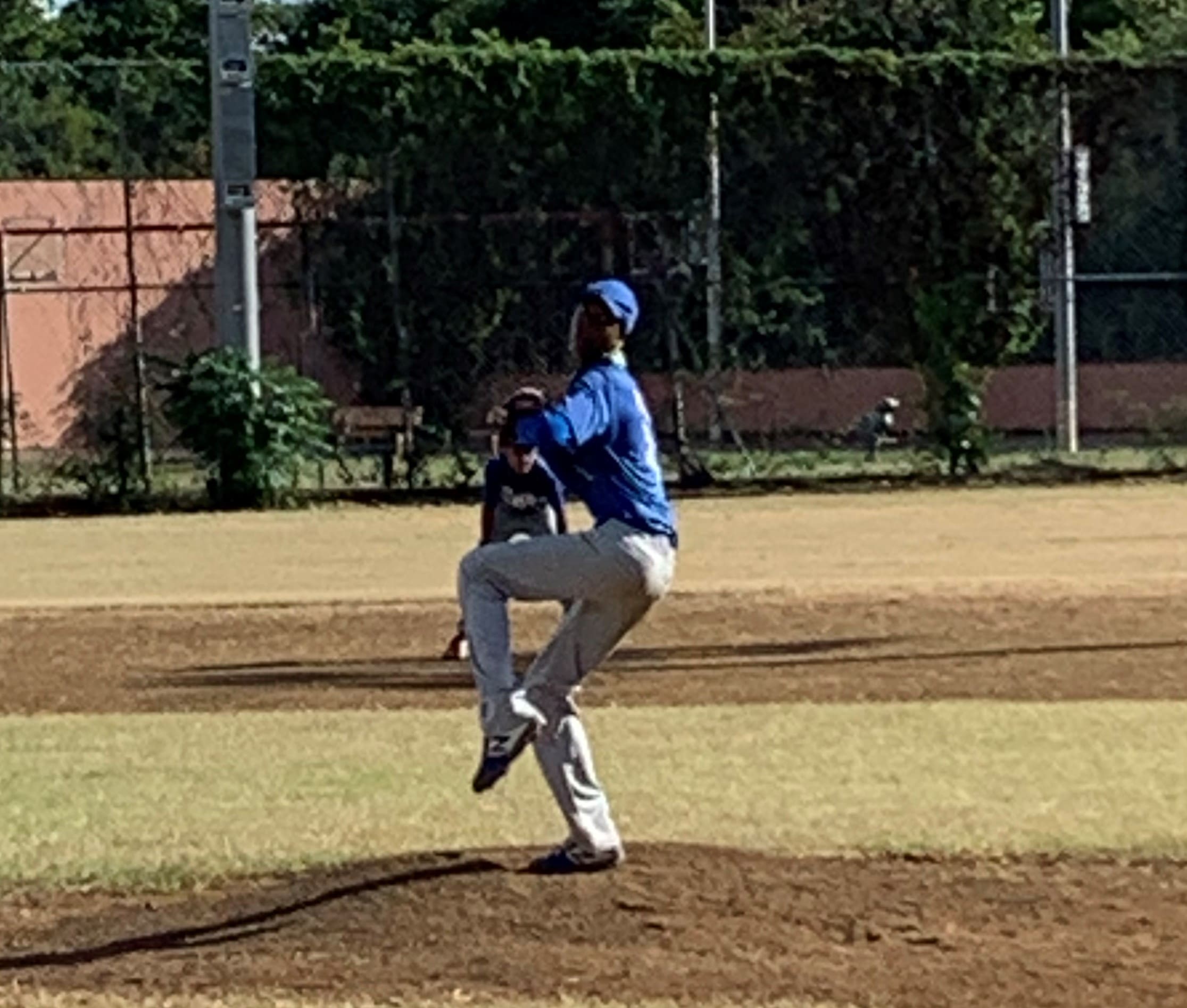 Baseball on St. Thomas
Dream Chasers 5 – Respect 2: St. Thomas Dream Chaser sprang off the blocks quickly as they scored all their runs in the first inning and never looked back in their 5-2 victory over St. Croix Respect at the Kirwan Terrace Ballpark on St. Thomas.
Dream Chaser's lead-off hitter Jayden Lawrence singled to start the game on Saturday. He later scored on Nykori Lewis's two-run double to left field. Later in the inning, Shavor Hart drew a bases-loaded walk on four straight balls driving in one more run. Roshard Lewis then stroked a single to right field earning him two RBIs. Those five runs were all Dream Chasers pitchers Lawrence, and Nazaral George would need. They were mirror images of each other as they both worked three innings, surrendered only one run each, and both struck out three batters. Lawrence got the win for Dream Chasers. Na-Jali Hospedales collected the loss. Lawrence and Nykori Lewis registered two hits for Dream Chasers. Hospedales and Thomas Corcino had the only two hits for Respect.
Respect's Jahdiel Bermudez came in relief of starter Hospedales and had a stellar performance. Bermudez struck out 13 Dream Chasers while allowing only three hits and issuing one walk in five and 2/3 innings of work.
Truce 8 – Saints 2: Third place Truce pulled off the upset, defeating first-place Saints at the Lionel Roberts Stadium on Saturday in the RBI Junior Baseball League play.
St. Croix Saints sat on top of the RBI Junior Baseball standings with a one-game lead over the second-place Dream Chasers at the start of play on Friday. That lead evaporated when Dream Chasers defeated the Saints on Friday, leaving both teams tied for first place. On Saturday, Truce took on the Saints and came away with an impressive 8-2 win. Truce wasted no time scoring three runs in the bottom of the first inning, which featured a triple by Vern Frett.
Frett was also the starting pitcher for Truce. He had a great outing striking out five batters and allowing only two hits in his four and 1/3 innings of work. Derek Morales was on the hill for the Saints. Morales was equally impressive, sitting down 11 via strikeout, but he gave up five hits.
No player for either team could muster more than one hit. Frett, K'Nard Callendar, Dehlani Simon, Moise Rogers, Ajai Larcheveaux, Devonte Freeman and Nehkai Nibbs all had one hit for Truce. Saints Tyrone Lake, Jelani Coggins, D'Lani Charles, and Kineil Stevens registered a hit.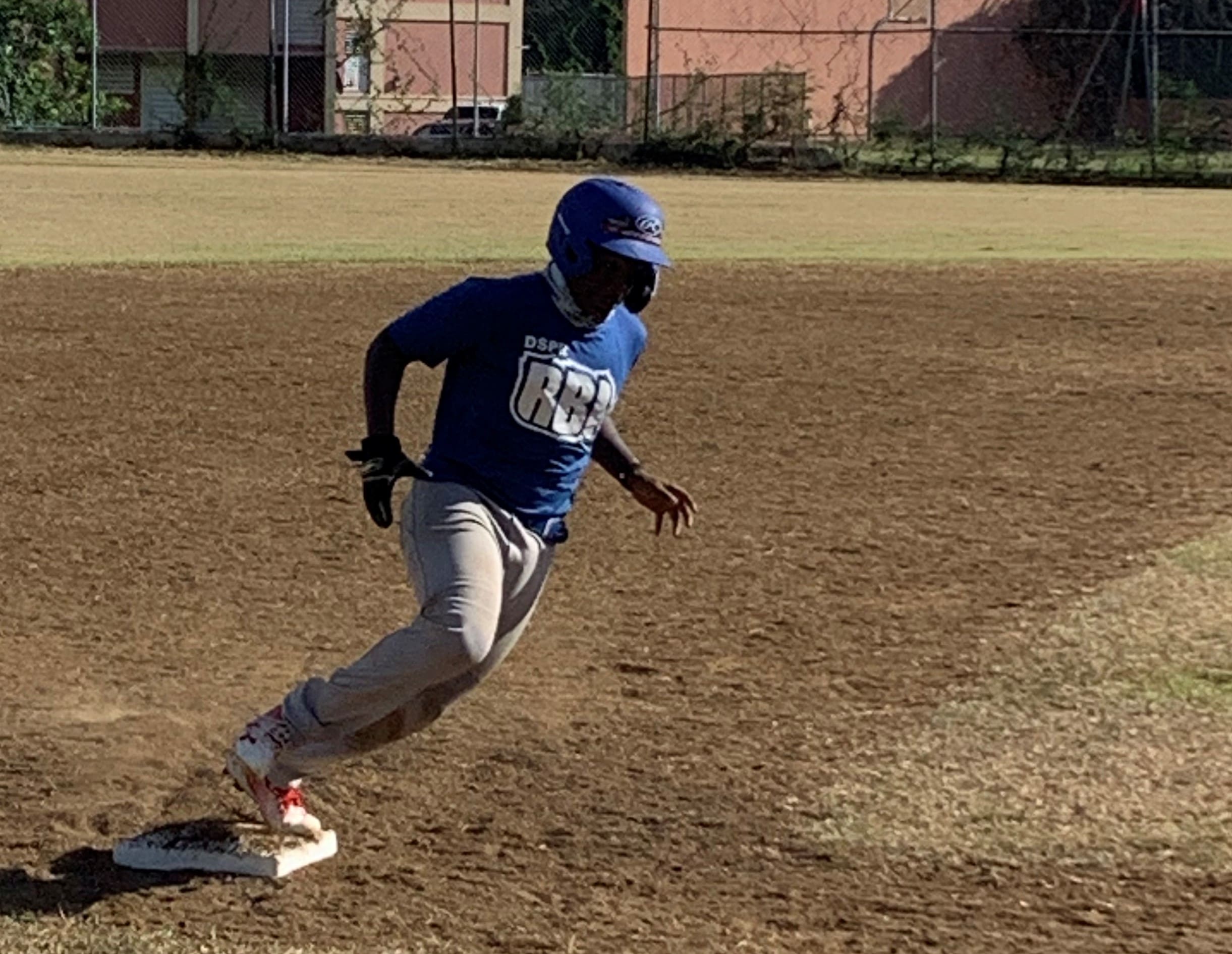 Truce 9 – Respect 6: St. Thomas Truce scored eight runs in the fourth inning to erase a four-point deficit in their come from behind victory over St. Croix Respect 9-6 at the Lionel Roberts Stadium on Saturday.
Respect used a four-run third inning to take a seemingly comfortable 5-1 lead over Truce. In that inning, Respects Na-Jali Hospedales led things off with a soft fly ball to shortstop that dropped in for a hit. Respect got their next six batters on base without the luxury of a hit. Pitches hit two batters, two were walked, and the final two got on base thanks to errors by Truce fielders.
In the top of the fourth inning, Truce also benefited from the Respect pitcher's inability to throw strikes as they issued five walks in the frame. Sprinkled between those free passes Dehlani Simon and Vern Frett blasted back-to-back doubles to left field. Truce catcher AJai Larcheveaux also hit a single, helping the St. Thomas team score eight runs in the inning.
Moise Rogers of Truce was the winning pitcher. Respect's Januelle Morales took the loss. Jordan Fleming, K'Nard Callendar, Simon, Frett and Larcheveaux all got hits for Truce. Respect's lead-off batter Jequan Weste was the only player in the game to record two hits. Hospedales, Morales, and Jahdiel Bermudez also got a hit for Respect.
Saints 5 – Integrity 2: St. Croix Saints Tyrone Lake kept St. Thomas Integrity in check as the right-hander dominated on the mound in his team's 5-2 victory at the Kirwan Terrace Ballpark on Saturday.
Lake dominated on the hill and in the batter's box. Lake struck out 13 batters on the mound, walking one and allowing only one hit. At the plate, the lead-off hitter went 2-of-3, scoring one run in the second.
Lake did have help from his teammates as the Saints pounded out eight total hits. Raynaldo Corcino and Jacob Turnbull went 2-of-4, and Derek Morales and Jelani Coggins collected one hit each for the Saints. Kibwe Belle Jr. hit 2-of-3 for Integrity, and Roquan Samuel went 1-of-2. Lake was the winning pitcher, while Keshawn Callwood Jr. got the loss.
After two days of inter-island play, Dream Chasers placed themselves in a great position to win this inaugural territorial league with two big wins this weekend. Here are the standings:
Dream Chasers 9 – 2
Saints 9 – 3
Truce 8 – 4
Integrity 2 – 9
Respect 1 – 11
Softball on St. Croix
Going into this final weekend of inter-island play in the RBI Junior Softball League, St. Croix Going Places was in firm control boasting a two-game lead in the standings over the two teams from St. Thomas, Ain't No Vibes and All The Way, who were both tied for second with 5-5 records. Day one results brought Going Places closer to the pack as they lost, and both teams from St. Thomas won. The stage was set for an exciting and meaningful day of softball.
All The Way 11 – Going Places 3: Lack of control was the theme in the All The Way 11-3 victory of Going Places at the DC Canegata Ballpark on St. Croix.
All The Way could only generate one hit but took advantage of 11 free passes issued by Going Places pitchers to secure an 11-3 victory. Collectively both team's slingers walked a combined total of 15 batters while hitting another four with pitches. All The Way Joeniah Clendenin went the distance striking out four but walked four and gave up two hits. Going Places starter Jayla Brown recorded two punchouts but gave up six base-on-balls. Rashni Sackey came out of the bullpen and struck out two batters but walked five. Clendenin earned the win for All The Way, while Brown got the loss.
Joemyra Clendinen had the only hit for All The Way. Kaylee Corinco and Sackey got a hit for Going Places.
Ain't No Vibes 15 – Good Vibes 13: Ain't No Vibes used a ten-run fifth inning to dig out of a six-point hole in their win over Good Vibes on Saturday at the DC Canegata Ballpark.
Good Vibes were feeling great after they pushed six runs across in the opening inning. Ain't No Vibes starting pitcher Shaquilla Lewis struggled to find the strike zone walking six batters in the opening frame. She tallied 60 pitches in the inning. Good Vibes scored five more runs in the next two innings, building a 12-5 lead going into the fifth inning. Jamia Cochrane started the fifth with a single to left field. Two batters later, Yemeli Rodriguez came up with an RBI single to right field. Then two consecutive walks filled the bases for Ain't No Vibes Chelani Telemaque, who laced a double to right field, scoring two more runs. Jayla Smith followed with an inside-the-park homerun giving Ain't No Vibes a 12-11 lead. The team tacked on three more runs before Good Vibes could record the last out in that inning.
Good Vibes mounted a mini-comeback in the bottom of the fifth, scoring two runs. But it wasn't enough, and Ain't No Vibes came away with a two-run win.
Cochrane earned the win for Ain't No Vibes while Nia Francis picked up the loss for Good Vibes. Yemeli Rodgriguez and Jayla Smith powered the Ain't No Vibes offense going 4-of-4 and 3-of-3. Cochrane, ShaKevia Greaves, Telemaque, and Amyia Greaves collected one hit for Ain't No Vibes. Allysa Brady, Nia Francis, Aaliyah Torres, and Jahnya Allahar registered one hit for Good Vibes.
Going Places 8 – Ain't No Vibes 7: St. Croix Going Places used back-to-back hits by Elisha Ramirez and Dirajah O'Reilly to take the lead for good in the final inning of their victory over St. Thomas Ain't No Vibes on Saturday at the DC Canegata Ballpark.
Going Places got on the board in the top of the opening inning, aided by four bases on balls and powered by back-to-back singles by Kaylee Corinco and Riyanna Nieves, scoring five runs in the frame. Ain't No Vibes responded with four runs in the bottom of the inning. Leah George's single, Jayla Smith's inside the park home run, and Jamia Cochrane's double fueled Ain't No Vibes offensive attack in that opening inning. Going Places was down one run going into the top of the final inning. In that inning, Ramirez hit a single to right field. She came home on O'Reilly's double to left field. O'Reilly later scored on a fielder's choice. Going Places made that slim lead stand as they didn't allow any runs in the bottom of that frame.
Going Places, Tyssane Lake earned the win. Shaquilla Lewis was saddled with the loss for Ain't No Vibes.
Good Vibes 12 – All The Way 4: St. Croix Good Vibes put up runs early and often in their 12-4 win over St. Thomas All The Way on Saturday at the DC Canegata Ballpark.
Good Vibes JahLaiyah Hendrickson and Allysa Brady controlled the game from the circle striking out five batters and only allowing two hits. Good Vibes benefited from three walks and three errors as they scored six runs in the top of the third inning. Nia Francis also hit a double in the inning for the St. Croix team. All The Way pitchers issued nine walks, and their fielders committed six errors in this game.
Hendrickson earned the win for Good Vibes, pitching four and one-third strong innings. Jahniya Williams took the loss for All The Way. Francis led the game with two hits for Good Vibes. Brady, Dyarra Peters, and Hendrickson had hits for the home team. Gabriela Roinson and Mekaela Richardson got the two hits for All The Way.
Day two of the RBI Junior Softball League inter-island games left St. Croix Going Places still on top of the standings. Here are the standings:
Going Places 9 – 5
Ain't No Vibes 7 – 6
All The Way 7 – 6
Good Vibes 4 – 10
*RBI stands for Reviving Baseball in Inner Cities. It is an outreach program created by Major League Baseball, sponsored in the territory by the Department of Sports, Parks, and Recreation to develop a love for the game of baseball and use that to foster the value of teamwork, working hard to achieve their goals, academic excellence, and community service.