As the year winds down, Sen. Steven Payne wants Source readers to know about the initiatives for St. John that have kept him busy this past year during the 34th Legislature and his plans for what he hopes to accomplish in 2022.
As the Virgin Islands' senator-at-large, Payne represents all of the territory but is required to live on St. John and serves as a voice for that island's community.
Waste Collection
Payne began by outlining his role in improving the trash collection problem that arose several years ago when the contract for hauling waste from St. John was taken from Penn's Trucking Services, a St. John company, and awarded to haulers on St. Thomas.
For many months, trash bins on St. John routinely overflowed, particularly in Cruz Bay, including the bin next to the Julius E. Sprauve School.
Saying, "We can't allow this to go on," Payne scheduled meetings with Roger E. Merritt, executive director of the VI Waste Management Authority, and Alice Krall, Merritt's special assistant who has been a long-time St. John resident.
In 2021, the contract to haul waste from St. John was restored to Penn's Trucking Services, and Payne was pleased that the bin sites have remained much cleaner.
But St. John residents have complained that a number of bin sites have been closed within the past year, including the site at Round Bay – the only one at the East End of the island – and at Great Cruz Bay, where there is a concentration of short and long-term residences.
Payne said the changes were necessary to keep the island clean. To compensate, extra bins have been added at the sites in Coral Bay and Pine Peace near Cruz Bay.
The Waste Management Authority announced recently that tipping fees—fees to bring waste to landfills – will begin for commercial haulers in January 2022.
Landfill Tipping Fee to Start in January
Payne said future plans call for residents to separate their trash into different colored containers – for glass, organic waste, etc. – and have municipal waste haulers collect the containers from people's homes, a service that has not been available on St. John.
WAPA
Payne said St. John residents and visitors would have to continue to deal with the inconvenience of construction as WAPA continues its initiative to install power lines underground, a plan that has been underway since Hurricane Irma knocked down power poles throughout the island in 2017.
Payne said the construction would continue throughout the peak tourist season, adding that the slow season coincides with hurricane season, which brings on its own set of challenges.
Current plans call for power lines to be buried underground as far as Maho Bay on the North Shore Rd., Myrah Keating Smith Community Health Clinic on Centerline Road, and Jacob's Ladder on the South Shore road.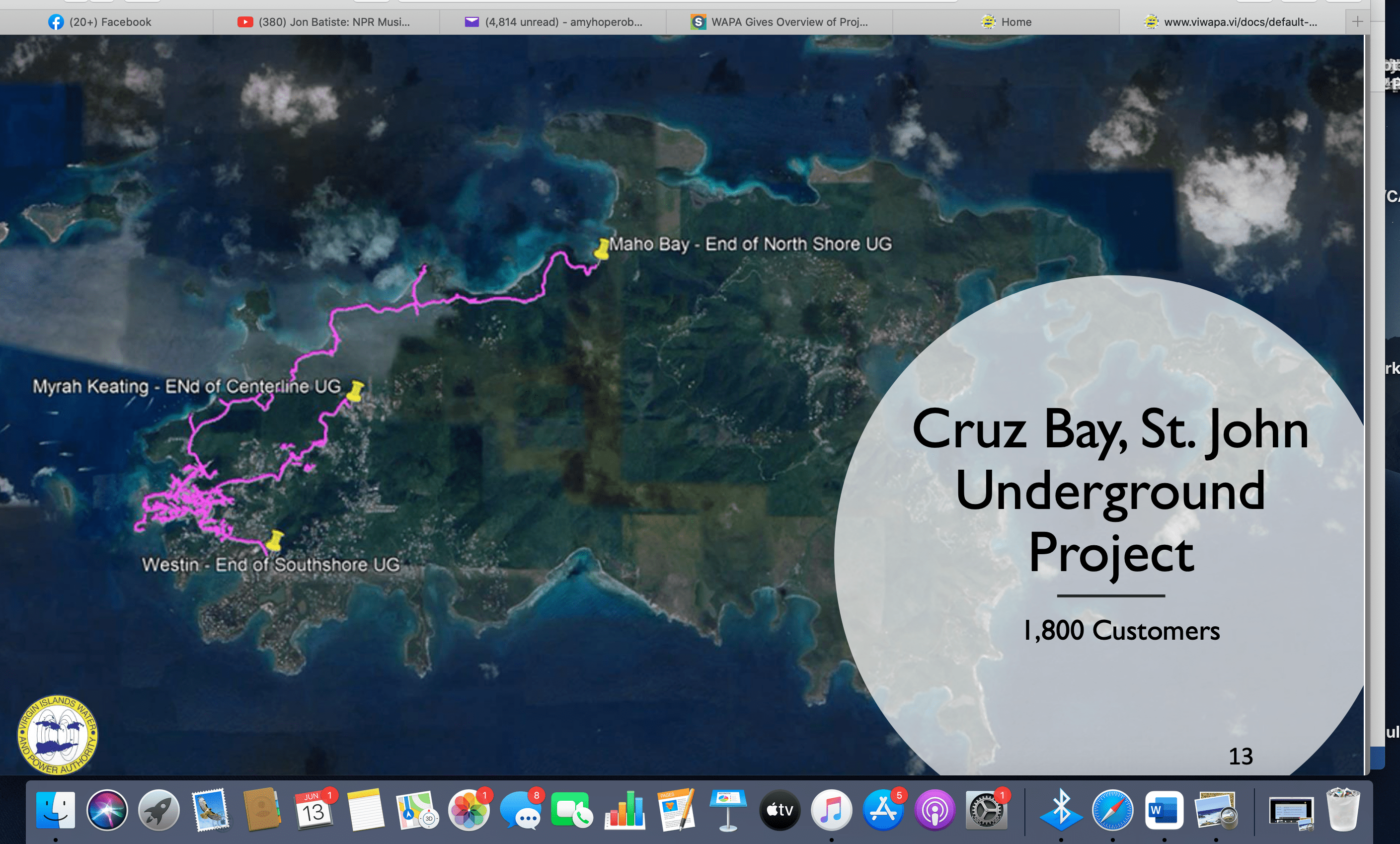 Payne is now calling for power lines to be laid underground all the way along Centerline Rd. to Coral Bay.
Meanwhile, badly needed road repairs will be scheduled after that project is completed because of the territory's "dig once" policy. "It doesn't make sense to pave [the road] over, and then WAPA has to dig them up again," Payne said.
Payne said two new generators– one for Cruz Bay and one for Coral Bay – have been ordered, but their installation will be put on hold until "WAPA gets the [rest of their] system ready to go." He looks forward to the day when "We never have an island-wide power outage again."
Department of Human Services
Payne said upon the request of employees, he recently toured the Department of Human Services building in Cruz Bay, and "What I saw made my heart drop." The condition of the facility has been declining since the hurricanes in 2017, and Payne is seeking to reappropriate $100,000 to make repairs.
Fish Market and Possibly More in Enighed Pond
On Dec. 6, Gov. Albert Bryan Jr. approved $1.5 million to construct an "aesthetically pleasing" market for fishers in Cruz Bay.
Senate Committee Advances Bill for Fish Market Dock on STJ
Payne, who co-sponsored the bill with Sen. Janelle Sprauve and others, said funds from the St. John Capital Improvement Fund would allow the Virgin Islands Port Authority to construct a building complete with restrooms and a small dock and slipway in Enighed Pond.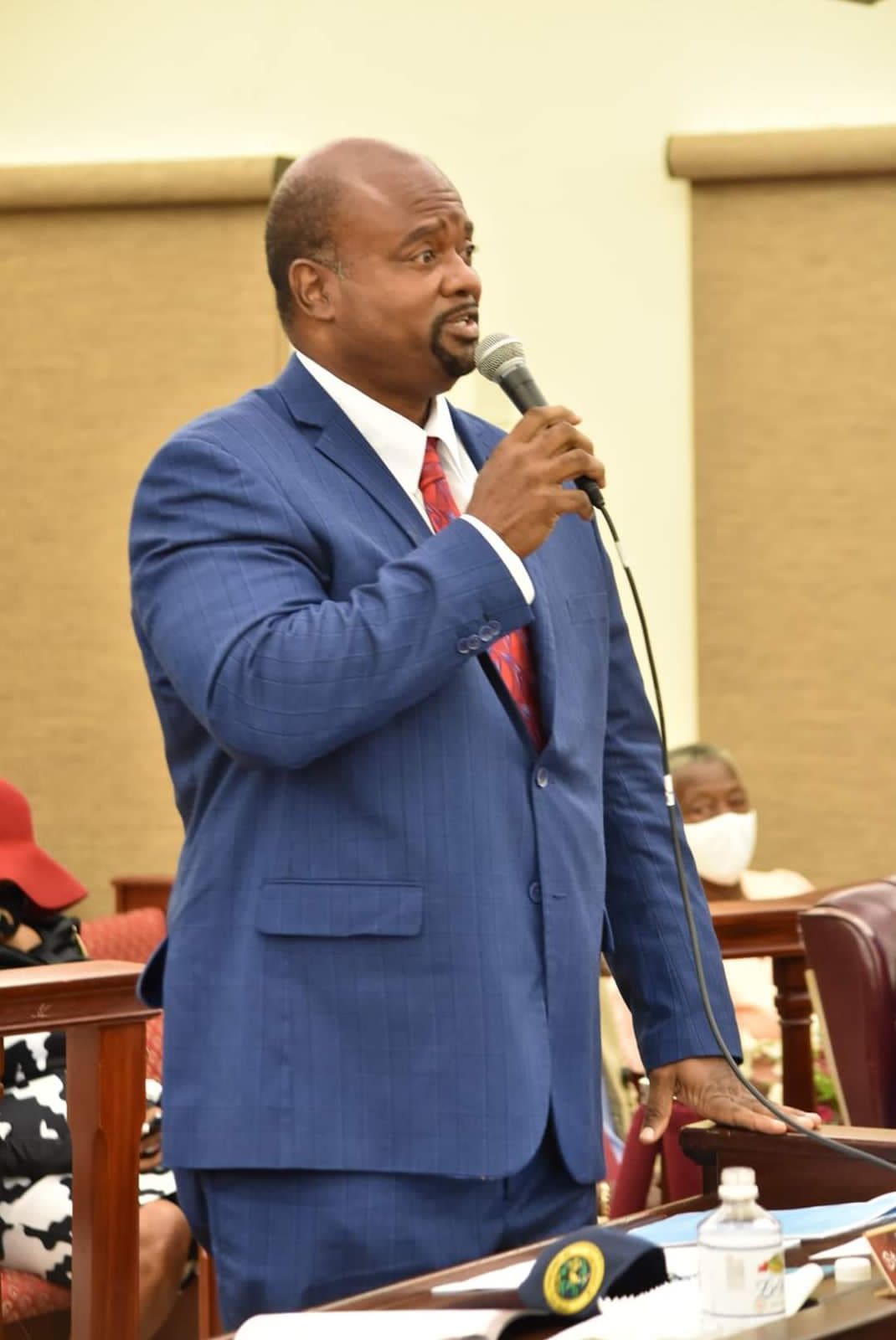 "Fishermen have been asking for this since my first day," said Payne. Lacking an accessible facility, fishers have been selling fish out of coolers on the streets of Cruz Bay, resulting in citations from the Department of Licensing and Consumer Affairs, he added.
Payne said 20 individuals expressed interest in applying for commercial fishing licenses once the Department of Planning and Natural Resources announced the end of a 20-year moratorium on the issuance of new licenses.
"Most of [the fishers] will be doing it part-time," said Payne. "The idea is that they will provide a fresh catch for the hotels."
Payne said he is working with several members of the boating industry to locate a place in Enighed Pond where charter boats can tie up. "We'd like to have a ramp and slips for 15 boats. There's no place for them to tie up around Cruz Bay now."
The VI Port Authority, which controls the land surrounding most of Enighed Pond, has been open to the idea, according to Payne.
Relocation of Ferry Dock?
Payne said after the Christmas season passes, he plans to do a "deep dive" into a plan that has floated around for decades to relocate ferry operations from the dock across from Frank Powell Park to the Creek, also known as Little Cruz Bay.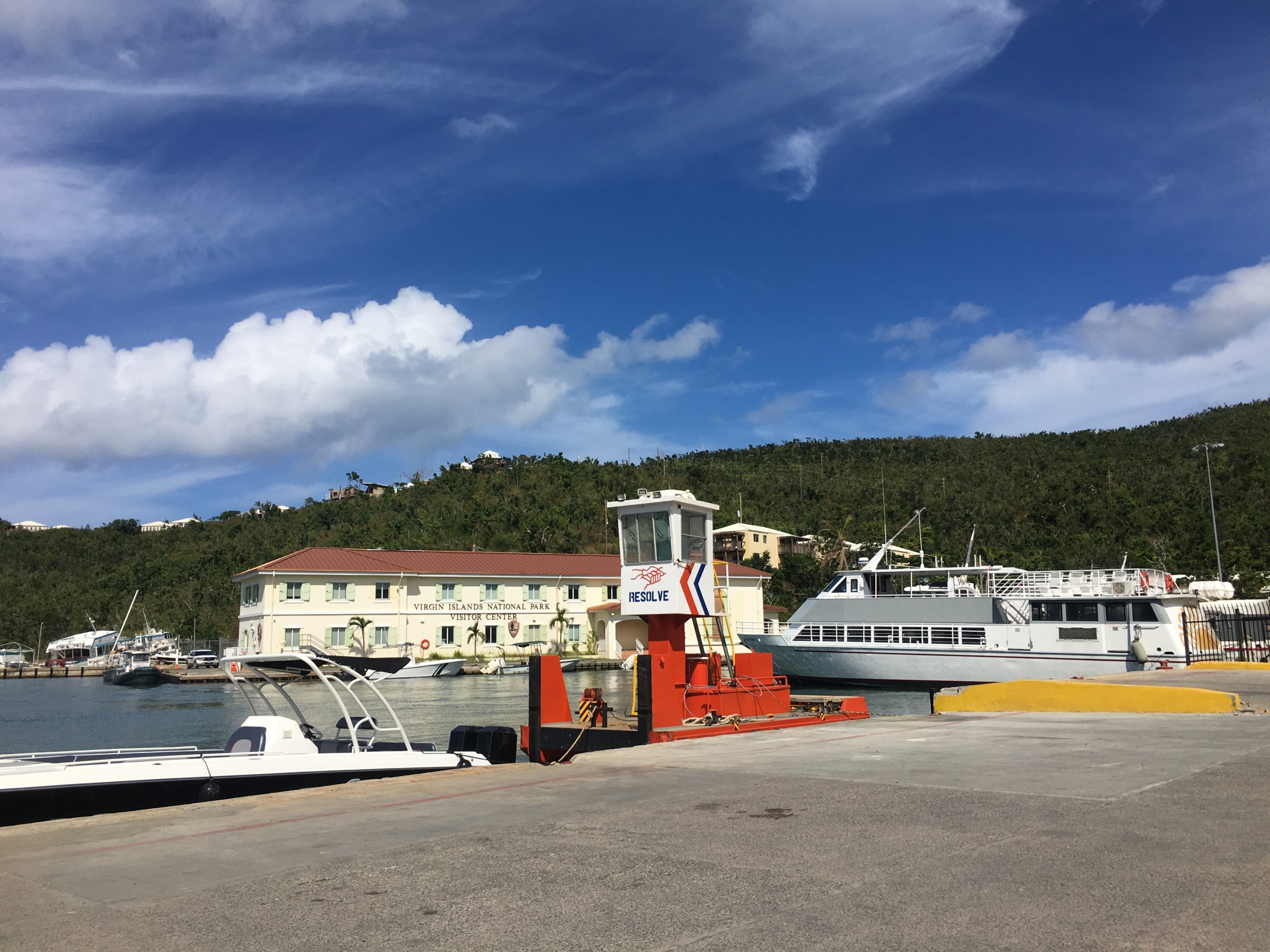 "We've not yet talked to the ferry companies about this," he said. "We have additional funding to improve our infrastructure. We don't have a lot of land on St. John, so we have to maximize the space that we have."
Payne said funding from the American Recovery and Reinvestment Act is being used to help the ferry companies maintain their boats. "Ridership went way down because COVID," said Payne. The two government boats leased to the ferry companies required new engines, he said, and their condition could not be ignored. "They're the lifeblood between St. Thomas and St. John."
Relocation of vendors?
Payne said he is also working on a plan to relocate vendors from Frank Powell Park, which is becoming too congested. "The goal is to beautify the park. When you sit there now, all you see is tents," he said. Although he has a place and design in mind, "I'm going to keep the plan mysterious for now. We're hoping to create a vendor's plaza with a twist."
Assisted Living Facility?
Payne said he's been in discussions with church leaders who have been working together to locate a place to construct an assisted living facility. The Moravian Church owns six to eight acres that could be used as a facility "for seniors who want to return home but have no place to live."
"We're looking for solutions, not just discussions," said Payne, who credited staff member Lorelei Monsanto in moving the project forward.
New Building for Coral Bay?
Payne said he would like to see a new building constructed in Coral Bay to provide space for the Fire Department, the Police Department, and DPNR. "We need a stronger presence for marine enforcement," he said.
He's considering the spot where the trash bins are now placed, but a building there would need to be elevated because it's in a flood zone.
Library in Cruz Bay
While the community awaits repairs to the Elaine I. Sprauve Library and Museum in Cruz Bay, which has been shuttered for nearly five years, there's no reason that a bookmobile on St. Thomas can't come over to St. John, Payne said.
Land Swap
Payne said he and Lorelei Monsanto will travel to Washington, D.C. in early 2022 to find out what's causing the delays in the land swap between the territory and the Department of the Interior, a deal that is necessary to construct a new school on St. John.
"It's been way too long. Everyone who has to sign off on it in the Virgin Islands has," said Payne, "so we're going to knock on some doors."
On a side note, Payne said he was able to secure $25,000 to fund Society 340, a St. John-based youth and young adult empowerment and job training organization.
Payne has also proposed legislation to honor former Senator Almando "Rocky" Liburd.