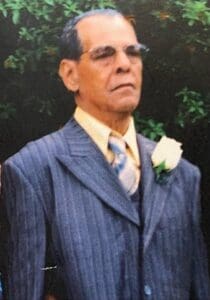 SGM Amos Ludvig Sealey Sr., also known as "Commander Sealey," of Constitution Hill died on June 4.
He is survived by his daughters: Joycelyn Sealey, Sheron Sealey Fredericks, Linda Sealey Cipriani, Marsha Sealey, Tiffoni Sealey King and Cheryl Sealey Smith; sons: Charles "Mountain" Sealey, Ludvig "Biggs" Sealey, Amos "Sal" Sealey and Robert Sealey; and grandchildren: Gleston McIntosh Jr., Shawn Chris Kyle, Tiffany Sealey, Atmore "Flakey," Kaleem "Kaka"  Fredericks, Karima Liburd, Amos Sealey III, Mark, Jamal Smith, Nivea, Charles Jr., Lamar, Kareem, Anayah, Jahsiah Sealey, Jerome II, Quiana, Quinisha and Jonathan Cipriani, Shamal Smith, Kahmal, Kaydence Heath, Emmet Petersen Jr., D'niqua Guide, Kiahna, Jonathan, Robert Jr. Sealey and Tyesha King.
He is also survived by great-grandchildren: Laura Amelia, Emily Amara, Amoy, Anthony, Aiden, Austin, Ajani, Atisha, Jahbari, Trent, Kaleem Jr., K'Shawn, K'Shilah, Koa, Kazir and U'Reisha Fredericks, Michael Liburd, Emily Petersen Jr., Anesha Knight, E4 Specialist Deanate, Jamal Jr., JaShante, Jalesia, Alyssa Smith, Azaria Sealey, Shaiya, Ramel, Aalayza, Valon, Amos Sealey III and Zaleera; nieces: Lydia Taylor, Carmen, Leona Vallade, Gloria Lambert, Anita Sealey, Elveda Ventura, Juanita Griffith, Doreen Sealey, Cheryl Torrence, Lorraine Sealey, Ruley, Gloria, John, Tisha Jackson and Anna Sealey; and nephews: Neville, Victor, Eric Sealey, David Griffith, Brian, Kelly, Murray, Sidney, Ibio and Iasha Sealey.
Other survivors include stepdaughters: April Heath and Beryl "Patsy" Hansen; stepson, Carl "Bunchie" Hansen; daughters-in-law: Lizette Sealey and Melinda Marelle Sealey; sons-in-law: Ted Robert King Sr, Jerome Cipriani, Mark Smith Sr.; stepson-in-law, Kirk Heath; brothers-in-law: Paul and Rosaldo Horsford; sisters-in-law: Paulina, Loma, Zelma and Corine Horsford, Virginia Henneman, Rosetta Steven, Azzula Ford, Lorraine "Debbie" Cartier, Shermaine "Nukey" Cartier, Diane Cartier and Joana French; adopted daughters: Lyn Fredericks, Shaisa Fredericks, Keisha Smith, Violet Smith and Josette Cipriani; adopted sons: Atemore Fredericks Sr. and Emanuel Liburd; special friends: Estel and Alicia "Chucky" Hansen, Wanda Centeno, Daryl Bartley, Monroe Clendenen, Carmen Ortiz, Hyle "Wify" David, Charles David and Reginal Samuel; as well as other relatives and friends too numerous to mention.
There will be a service held at the Legion Hall Post No, 85 (Gallows Bay) from 8-9 a.m., Wednesday, June 22. It will be followed by a funeral service at Holy Ghost Deliverance Ministry with a viewing held at 9:45 a.m. followed by a funeral service beginning at 10:30 a.m. Interment will follow at Kingshill Cemetery Veteran Section.