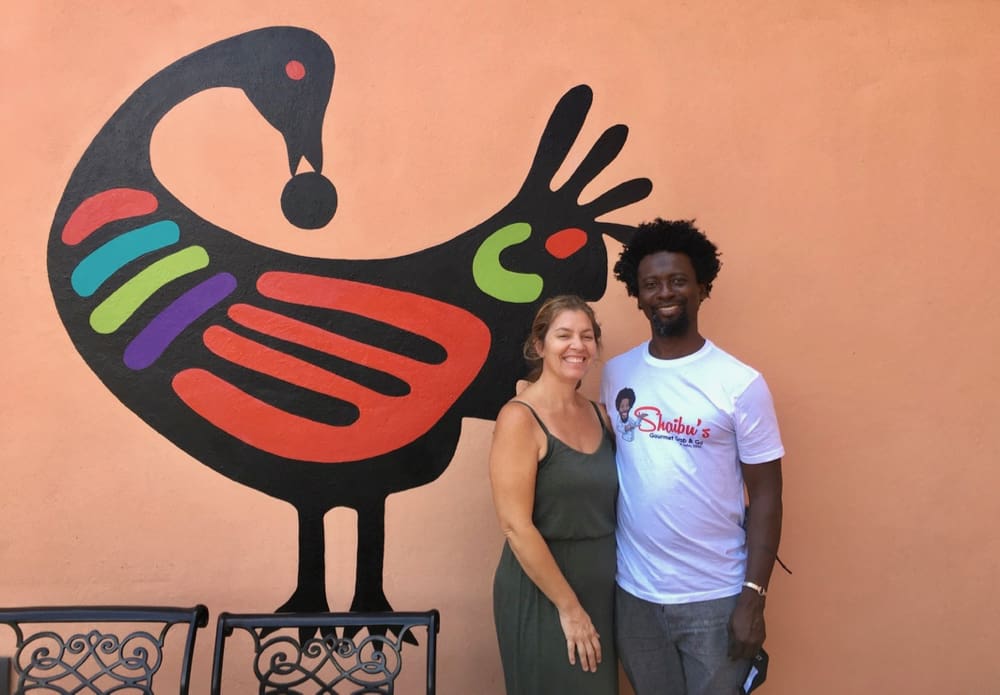 This is the first in a series of stories on St. John's booming restaurant scene.
Opening a fine dining establishment in the midst of a pandemic may sound like a kooky idea, but the story of the genesis of Shaibu's Garden Oasis makes it easy to understand how the restaurant owners have managed such a successful launch.
Chef Shaibu Abdulai, originally from Ghana, has gathered quite a fan base since opening his private chef business on St. John in 2013. But it was his "Gourmet Grab and Go" lunch spot in the Marketplace – featuring grain bowls with seasonal vegetables, fresh chicken salad with cashews and cranberries, and local juices spiked with turmeric and ginger – that brought him widespread glory in 2018.
In late 2019, when rumors sprang up that he was opening an upscale restaurant in the former location of Rhumb Lines (which subsequently moved to Coral Bay), repeat visitors and locals had much to look forward to. Then COVID-19 hit, and plans were put on hold.
When Gov. Albert Bryan eased restrictions for social gatherings in recent months, tourism returned to St. John in force. A boom in villa and charter boat rentals – which allows groups of family and friends to vacation in relative safety – has brought throngs of people to the island.
Shaibu and his wife Julie Downard Abdulai decided in late January that the time was right to open Shaibu's Garden Oasis for dinner.
The courtyard location gives the Abdulais the flexibility to rearrange seating and operate at half capacity of the 120-person maximum, and diners have raved about the gracious spacing, the pleasure of dining under the stars, and of course, the food.
Shaibu is committed to using fresh, seasonal, locally-sourced ingredients.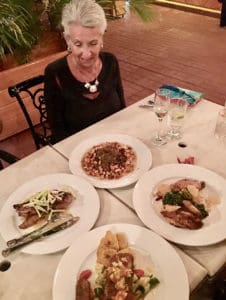 "If seagrapes or guavaberries are in season, you'll see them on the menu," he said. "And if the seas are rough and fisherman don't go out, then fish may not be."
Shaibu goes beyond the use of pineapple and mango to bring the flavors of the Caribbean to the menu. One of his most popular dishes is oxtail, deboned, which he serves with manioc cake and root vegetables. He puts sea moss in his tofu terrine to give it texture and serves fried plantains in a style that appeals to Caribbean people but also reflects his Ghanaian roots.
He looks for ways to meld the tastes he grew up with and the international cuisine he was trained to prepare. Shaibu started cooking in Ghana and by luck won a spot in the lottery for a U.S. visa in 2001. He was afraid September 11 attacks would ruin his chances of coming to America, but in 2003 he was cleared to enter the United States to attend a culinary arts school in Virginia.
That experience gave him the appetite for truly creative cuisine, and in 2004 he entered a bachelor of arts program at the Culinary Institute of America. Upon graduation, he was recruited for an upscale restaurant in California, but the 2008 recession caused that restaurant to shut down, so he started taking seasonal jobs. Caneel Bay Resort was one of his gigs, and soon he began spending winters on St. John and summers in Alaska and elsewhere.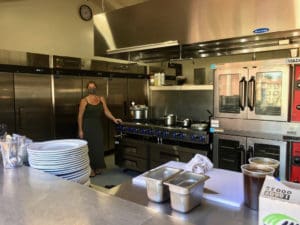 In the process, he met his future wife and business partner on St. John.
"It was love at first sight," Julie said. "I knew his talent and that he could have his own business as a private chef here."
And so he stayed, working for a while as a chef at Fatty Crab, a favorite among foodies in Cruz Bay, and then developed his catering business.
As Shaibu's reputation grew, he attracted the attention of a generational St. John family that owned property in Cruz Bay. Myrah Keating Smith II (the daughter of the midwife for whom the St. John clinic is named), and her husband Ralph Solomon approached Shaibu about opening a full-scale restaurant. As residents of upstate New York, they were familiar with the Culinary Institute of America and had faith that Shaibu had the training and skills to make it a success.
The family owned land adjacent to Frank Powell Park, across from the ferry dock. Their old home became a favorite spot for local food when it was converted to Miss Meada's restaurant. In the early 1990s, a shopping complex encompassing the family's yard was erected and named Meada's Plaza. Shaibu's Garden Oasis now operates in the newly renovated courtyard area.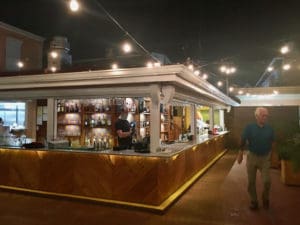 Shaibu said he felt comfortable when he first met with the family on their property and noticed the looping pattern on the wrought-iron gates at the complex. It reminded him of the Ghanaian concept of Sankofa, which literally means "to go back and get it" and embodies the notion of honoring one's heritage. One of the symbols for Sankofa depicts a mythical bird flying forward with its head turned backward. A painting of that bird now decorates the courtyard.
"Ms. Myrah and Mr. Solomon wanted to give back to the community," Shaibu said. "They wanted to sustain local agribusiness. They wanted a place serving global cuisine where locals would feel comfortable dining. They wanted the restaurant to follow sustainable practices, so we bought a water filtration system and process our own water rather than import water in bottles, and they wanted us to only hire locals. I'll train somebody if they're willing to learn."
Shaibu's Garden Oasis seats customers for dinner from 5:30 until 9 p.m., Tuesday through Sunday. Reservations, which are recommended, can be made online or by calling 340-776-7424.