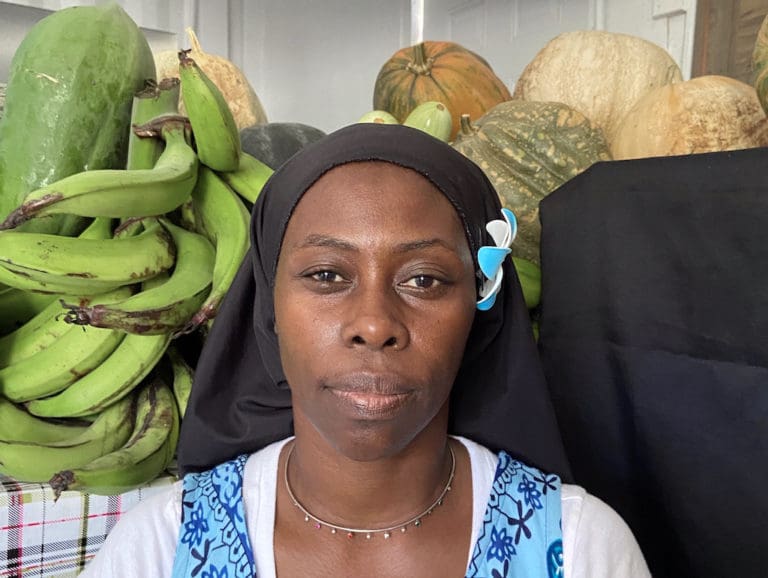 Local farmers Violet Drew and Samuel Tyson have suffered a great loss from a fire that raged through their farm the night of July 29, to be discovered the following morning as Tyson returned to their farm.
Drew said their neighbor had been burning dried bush on that fateful night and left it unattended.
"He probably thought the fire was completely extinguished and he left his farm, which is separated from ours by a shared fence," she said.
Drew and Tyson of Ra's Sonrise Daughter Stand Farm work their community garden in Lower Love, which they have leased from the V.I. Department of Agriculture for more than 18 years.
Five years ago, the same neighbor created a disaster by leaving a fire unattended that burned down Drew and Tyson's chicken coop, they said.
"We had just gotten our coops ready for production and they went up in flames," Drew recalled.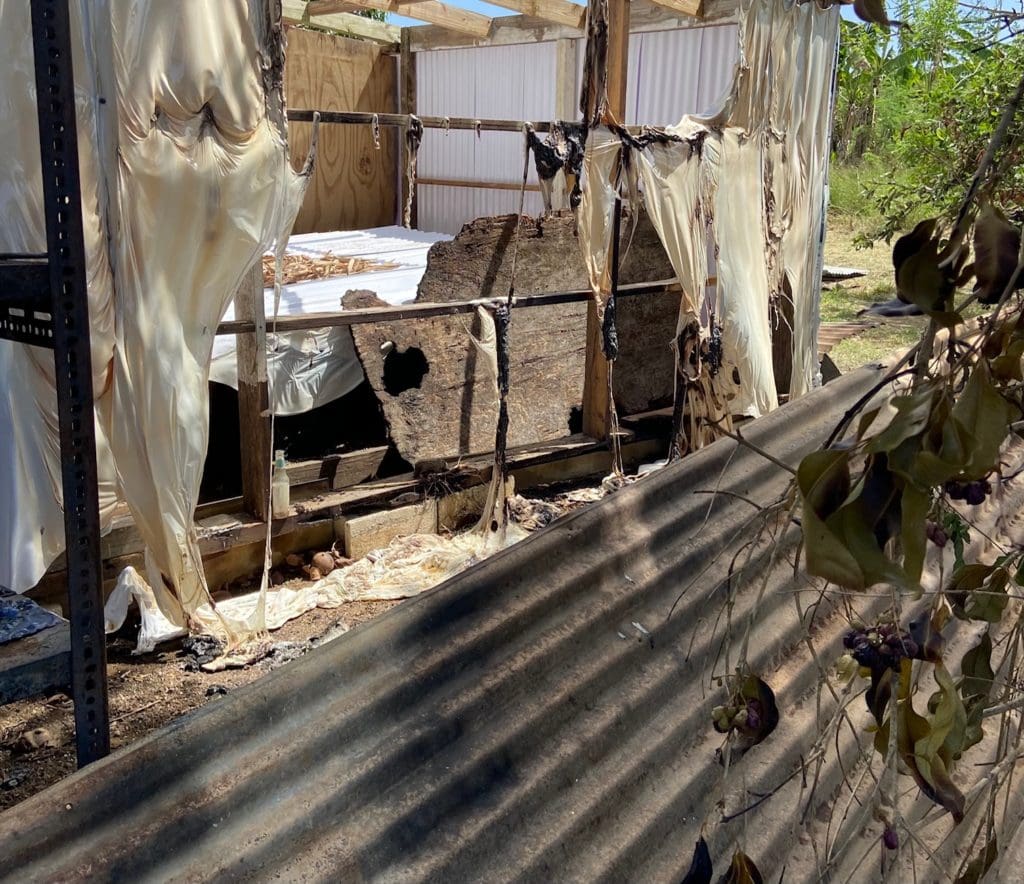 This time, the farm storage house was destroyed by the fire along with all the farm assets that were safely stored in the unit.
"Our storage house contained farm equipment, tools and operational materials we required to function as a farm in full capacity."
"Our crops were not destroyed. There are a few papaya trees on the border," Drew said. "It was such a huge blow to us that we had no words to make of it." Drew mused, "I ask myself, 'What does this mean? Is it to get bigger and better? Is there a message in this mess?'"
She posed the questions aloud as if asking for an answer out of her dilemma.
"We don't want to quit," Drew said.
She recalled her childhood days working alongside her mother, following in her footsteps and learning to farm. This is her life now; it has always been.
"We can't quit," she said.
(See: V.I. Agrifest coming This Weekend … )
Sejah Farm's Dale and Yvette Brown and Ridge to Reef's Nate Olive have been supportive of Ra's Sonrise Daughter Stand Farm. Olive organized a GoFundMe in Violet Drew's name.
They are encouraging the community to "help this wonderful family who urgently needs community support to get back on their feet."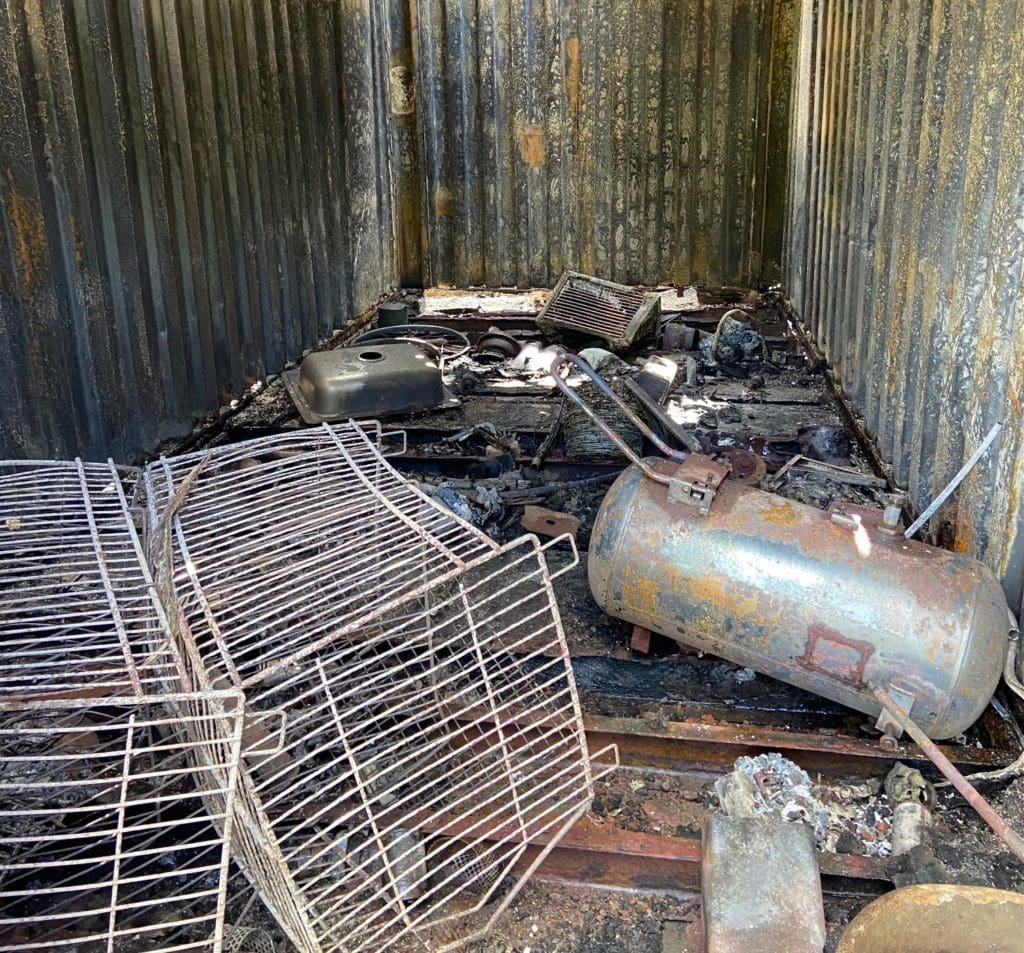 "Along with the children of the family, farm proprietors Drew and Tyson have made great strides in the agricultural operations in the Virgin Islands. They carry the torch of local food provision from the past to future generations," Olive said.
Brown spoke highly of Drew and Tyson and praised their hard work and dedication to the communities of St. Croix and St. Thomas in the resurgence of agriculture.
"With all of their efforts, it's disheartening to see them going into a drought and then experiencing a disaster right close to home," he said. Tyson is the production person, and they are both full-time farmers, Brown said.
"That is their livelihood. If we don't assist them, we're going to be without them. And we need them," he said.
"Combined they have been doing this all their lives for 30-40 years," Brown said. "This journey is a 'foot and toe' and they're an awesome team. Samuel has a trade but gave it up to give his all to agriculture. You can't find anyone who does a value-added product like Violet. She's an excellent cook and has developed her expertise in giving our community what it needs."
"We want to see them rise again," Brown said.
Olive and Brown are asking the community for significant and immediate support to put Drew and Tyson back on track and to get their local production back on the tables in the community.
"We can't afford to lose such a precious resource from our farming community. All financial donations (100 percent minus standard GoFundMe fees) will go directly to Violet Drew's family account so that it may be accessed immediately to begin replacing what was lost," the supporters said.
Donations also can be made to replace supplies and equipment. Extra tools and equipment can be donated or purchased. Items can be dropped off at Sejah Farm during weekdays and Saturday business hours or at the Ridge to Reef Farm "Tienda" stand on Mahogany Road by the Lawaetz Museum, open 11 a.m. to 3 p.m. Wednesdays and Saturdays.
Donations can be made at the GoFundMe Violet Drew site.
On Facebook, search for Ra's Sonrise Daughter Stand Farm.
More information is available at the websites of Ridge 2 Reef Farm and Sejah Farm or by calling Ridge to Reef at 340-473-1557 or Sejah Farm at 340-277-6046.
Replacements for Items Destroyed in the Fire
for Ra's Sonrise Daughter Stand Farm
1 20-foot storage container ($3,500)
3 weed cutters ($1,500)
2 backpack sprayers ($1,200)
1 chainsaw
1 generator
1 pole saw
1 submerge pump
1 compressor
1 rototiller
1 hula hoe
Hoes
Fork
Pickaxes
Rakes
Shovels
Soil aerator
Clippers
Organic fertilizer
Harvesting tubs
Small hand tools
Gas bottles
Wheelbarrow
Stainless steel sink
Tents 2 (10×10)
PVC, pipes and fittings
Irrigation hose and fittings
Ground cover with plastic stakes
Fruit picker
Plant pots
Wood for infrastructure
15 sheets of 1/2-inch plywood
20 20-foot 2x4s
20 20-foot 2x6s