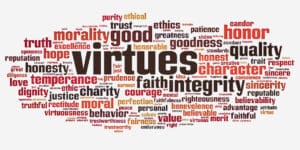 Virtue of the Week focuses on building peaceful and caring communities through understanding and fostering the practice of virtues. The Source supports the Virtues Project and will publish one virtue developed by the project each week.
Faith
Faith is a relationship of trust. It is believing in the reality of Grace. We are confident that our life has a purpose. We believe in ourselves, knowing we
were created with love. Faith is the wind in the sails of our dreams. It gives us the strength to go on, not succumbing to doubt, fear or hopelessness
As we move forward, we are guided to the right path without having to make it happen. Even in the most trying times, we are open to miracles.
Quote: "It is with the heart that one can see rightly. What is essential is invisible to the eye." from "The Little Prince" by Antoine De Saint Exuprey
The Practice of Faith
I seek a relationship with my Creator.
I trust that my life has meaning.
I am prayerful in all times and conditions.
I make discerning decisions.
I allow faith to guide my course.
I am receptive to wonders.
I am thankful for the gift of Faith.
It blesses me always.
Questions for Discussion
Moving in our social justice work, what do we need to fortify our community?
What does faith look like in our community? How can it be amplified?
What do you need in order to call on faith?
How can faith help us in our social justice work?
 Virtues Matter was started by a passionate wife-husband team of social entrepreneurs seeking to positively uplift as many lives as possible. We aim to inspire and empower, to build capacity, strengthen relationships, and help everyone lead lives of passion and purpose.
Virtues Matter believes in a world where people are committed to kindness and respect, strive to be their best, and live with hope, courage, and in unity. We built the Virtues Cards mobile app, an interactive personal and team development tool, to help people identify and develop key virtues skills. We also offer dynamic workshops, online training, and customized programs to help people cultivate these positive qualities of character. To learn more, visit www.virtuesmatter.org.