A trackhoe driver got the surprise of his life on Thursday morning, March 13, when the construction equipment he was driving down South Shore Road lost its grip on the road in the switchback at Ditleff Point, rolled down the hill and fell approximately 40 feet down a steep cliff into Fish Bay.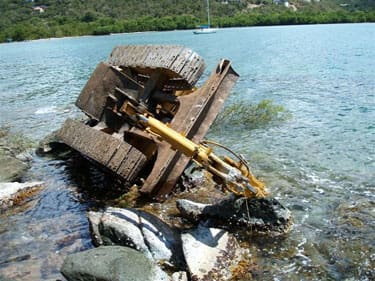 The driver realized he had lost control of he trackhoe and tried to dig his bucket into the road to stop the equipment from slipping, but soon realized he wasn't going to be able to bring the trackhoe to a stop, he told an eyewitness at the scene.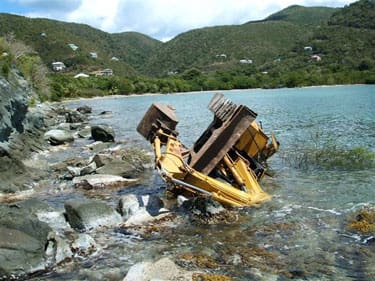 "When he saw where it was going on the edge of the road, he jumped off and was able to jump clear," said the eyewitness. "The only injuries he suffered were some abrasions on his upper left arm."
The accident occurred just a month after 40-year-old James Ginther was crushed to death under a broom truck in Estate Chocolate Hole when he tried to stop the truck from rolling backwards, and less than three months after two men were killed when the Centerline Concrete truck they were in skidded off the side of the road and flipped over in Virgin Grand Estates.