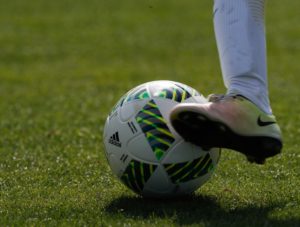 The U.S. Virgin Island Delegation arrived in Bradenton, Fla., on Monday, Aug. 29, prepared to compete in the 2022 Confederation of North, Central America and Caribbean Association Football (CONCACAF) Men's Under-17 Championship Qualifiers. Nineteen Under-17 Boys teams from this region are participating in the Qualifiers, they were drawn into four groups and will play as follows:
Group A: Bermuda, Guyana, Bahamas, Bonaire, Saint Martin, British Virgin Islands
Group B: Puerto Rico, Aruba, Martinique, Anguilla, US Virgin Islands
Group C: Dominican Republic, Saint Kitts and Nevis, Cayman Islands, Dominica
Group D: Nicaragua, Antigua and Barbuda, Belize, Turks and Caicos Islands
The biennial tournament is played from Aug. 30 to Sept. 8, and it will be played in three locations.  Groups A and B will be based at the IMG Academy, in Bradenton, Fla., while Estadio Panamericano in the Dominican Republic and Estadio Nacional in Nicaragua will host Groups C and D, respectively.
U.S. Virgin Islands 2022 Qualifiers Match Schedule:
Aug. 31 – 9 a.m. v Puerto Rico
Sept. 02 – 9 a.m. v Aruba
Sept. 04 – 9 a.m. v Martinique
Sept. 06 – 9 a.m. v Anguilla
Cheer the Virgin Islands team on and keep up with all the action on the Concacafgo app., Facebook page and Youtube channel.
Join the USVI Soccer Association in congratulating the following young men and their families on this great accomplishment.
The Team:  
Goalkeeper: Gavin Johnson, Khalid Warrel
Defense: Matthew Meyers, Jaeden Joseph, Zachary Mitchell, Matthew Meyer, Damien Victorin
Midfield: Andrew Bornn, Justice Wills, Zion Smith, Devante Larsen, Vinish Naik, Quinn Scott, William Thompson
Forward: Averad Penn, Romello Cuffy, Jackson Watkins, J'din Flemming
Staff:
Alexi Bedford – Head Coach
Fabian Felix – Assistant Coach
Sheldon Marcelle – Team Doctor
Davie Bannis – Equipment Manager
Kirk Goldsen – Physio
Goalkeeper Coach – Tyler Pletcher
Don-Luke George – Team Manager
Gilberto Damiano – High Performance Manager
Eustace Bailey – Technical Director
For more information on USVI Soccer Association programs, contact the USVI Soccer Association office at 719-9707 or email it at usvisoccer@gmail.com. Follow USVISA on Facebook at: USVI Soccer Association