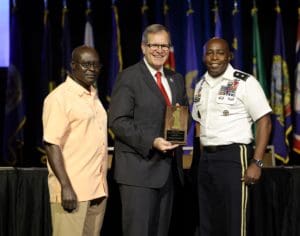 The Virgin Islands National Guard Association (VINGA) received the 100% Membership Award at the 143rd National Guard Association United States (NGAUS) General Conference and Exhibition in Las Vegas, Nevada, Aug. 28.
The National Guard Association of the United States General Conference is the association's annual business meeting. Army and Air National Guard officers from all 50 states, three territories and the District of Columbia gather to network, set their legislative agenda and hear from America's civilian and military leaders.
"VING ranking No. 1 in the nation is indicative of our soldiers and airmen once again exceeding the standards as we support our community and country," said Maj. Gen. Kodjo Knox-Limbacker, the adjutant general of the Virgin Islands National Guard.
"Our retired and actively serving service members prove they are committed to our profession of arms with continued 100% membership and participation in NGAUS. Accolades must go out to the remarkable recruiting efforts and support of VINGA President and Civilian Aide to the Secretary of the Army Lt. Col. (Ret) Beresford Edwards, Chief Warrant Officer IV Atacha Randolph and Col.(Ret) Linda Cills, who all ensured VING came out on top this year," said Knox-Limbacker.
In addition to being a 100% membership state, VINGA is number one in the nation at 125% membership.
"We couldn't have achieved this level of success without the leadership of CWO IV Atacha Randolph and the membership committee who worked diligently to ensure that the Virgin Islands National Guard Association sustained a 100% membership for nine consecutive years," said Beresford Edwards, president of the VINGA. "I would also like to thank our membership for their continued support."
The V.I. was one of 13 states and territories that achieved 100% membership in 2021. Other states were Mississippi, Guam, Hawaii, Nevada, Arkansas, Delaware, Louisiana, South Dakota, Wisconsin, Georgia, Kansas and Tennessee.
VINGA Inc. is a non-profit corporation. The association's purpose is to promote growth and development, foster friendship and corporation amongst officers of the VING, and provide services for its members and dependents.