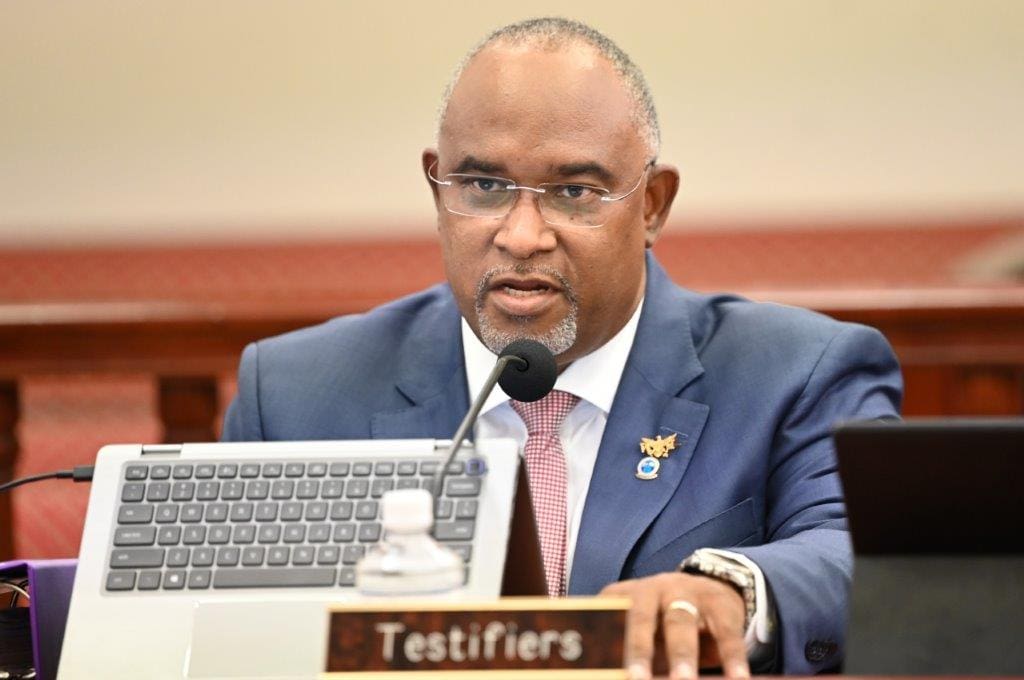 The V.I. Police Department continues to have very high overtime costs, an expense that has plagued the agency for many years, but adding new officers would cut those costs, Police Commissioner Ray Martinez told the Senate Finance Committee Wednesday.
During the budget hearing, Sens. Janelle Sarauw and Kurt Vialet zeroed in on overtime costs. Sarauw asked how the police department would pay for projected overtime, when the expected overtime was much higher than actually funded in the budget.
"The answer is we live with what has been provided for us and when we run short we have to go back and request a supplemental," said Martinez.
The Police Department spent $19 million on overtime last year and projects $22 million for overtime this current year, Martinez said. In the budget Martinez presented, $41.3 million is earmarked for wages and salaries and another $15.5 million for payroll taxes and fringe benefits, for total payroll costs of $56.9 million, so overtime alone accounts for almost half the department's payroll.
"Beside hiring more officers, what are you doing to manage overtime?" Sarauw asked.
"I'll be the first to admit… that is an issue I myself have been really working on with HR, Personnel and a person from Internal Affairs. We have to get a lot better," said Martinez.
Sarauw said police are deserving and valued but when overtime exceeds what is budgeted, the government has to move money around, resulting in problems like delays in income tax refunds or lack of money for other urgent needs.
The department has had a longstanding issue with excessive overtime costs, and in 2021, then-Commissioner Trevor Velinor said it was projected the department would pay out more than $17 million in overtime payments in fiscal year 2021, which is 26 percent higher than the 2020 fiscal year.
While the department budgets for overtime, the end costs result in much larger overtime payments than what is anticipated. Velinor said in fiscal year 2020 the department budgeted $2.5 million but spent over $13.5 million. In the 2021 fiscal year, the department had budgeted $4.5 million but overtime costs were projected to exceed this by $12.5 million.
The Police Department's total recommended Fiscal Year FY2023 Budget is $72.6 million, with $71.4 million of that coming from the government's General Fund. The General Fund is the local government's main trove of local tax revenues funding local government activities.
It also expects about $19.3 million in federal grant funding for the upcoming year.
Asked about efforts to implement bodycams, Martinez said, "90 percent of our uniformed officers are wearing bodycams, from the chief on down."
Sen. Novelle Francis asked how short-staffed the department is. Martinez said they needed
another 35 officers per district and 20 auxiliaries per district. "This would help overtime, burnout, increasing longevity of some of the officers we have," Martinez said.
For context, Martinez said in his budget testimony that the department has 317 police officers, 16 other sworn personnel and 180 civilian employees. There are nine civilian employees and 34 sworn officers out on extended leave, whether military, sick, and assignment to the unclassified service.
No votes were taken. Vialet, Sarauw, Sens. Dwayne DeGraff, Donna Frett-Gregory, Javan James, Samuel Carrión, Angel Bolques, Novelle Francis Jr., Carla Joseph, Marvin Blyden, Janelle Sarauw, Franklin Johnson, and Kenneth Gittens attended the meeting. No committee members were absent.