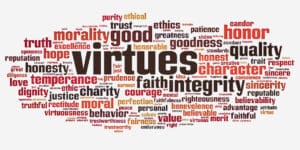 Virtue of the Week focuses on building peaceful and caring communities through understanding and fostering the practice of virtues. The Source supports the Virtues Project and will publish one virtue developed by the project each week.
Forbearance
Forbearance is patience, fortitude and acceptance under trying circumstances. We tolerate hardship with good grace. We quietly call on our self-restraint. We are long-suffering in situations that we cannot control. We do not allow the trials of life to steal our joy. We extend forgiveness and understanding to others, knowing that we all have flaws and frailties. We are forbearing with ourselves, humbly mindful of the times we fall short, ready to move forward to try again. Forbearance is the mortar that keeps our relationships resilient and strong.
Quote: "Forbearance is the greater virtue. Cover the blemishes, faults and weaknesses of others. Excuse their feelings, bury their weakness in silence … and forgive." – Karunamayi, 21st Century Guru
The Practice of Forbearance
I am accepting in times of trouble.
I tolerate what I cannot control.
I use self-restraint to calm my emotions.
I am patient and forgiving with others.
I humbly learn from my mistakes
I am committed for the long run.
I am thankful for the gift of Forbearance. It gives me a resilient spirit.
 Questions for Discussion
What deserves our patience, fortitude and acceptance under trying circumstances when we deepen our social justice work?
What helps you call on self-restraint?
What joys can we celebrate as a community?
What understanding do we need to extend in our community as we deepen our social justice work?
Virtues Matter was started by a passionate wife-husband team of social entrepreneurs seeking to positively uplift as many lives as possible. We aim to inspire and empower, to build capacity, strengthen relationships, and help everyone lead lives of passion and purpose.
Virtues Matter believes in a world where people are committed to kindness and respect, strive to be their best, and live with hope, courage, and in unity. We built the Virtues Cards mobile app, an interactive personal and team development tool, to help people identify and develop key virtues skills. We also offer dynamic workshops, online training, and customized programs to help people cultivate these positive qualities of character. To learn more, visit www.virtuesmatter.org.